Latest News
10/26/2015 :: 03:04 PM
The Legendary Haunt Tour - Chicago! November 12-14, 2015
Each year the
Legendary Haunt Tour
visits a different city in the USA and tours 2 to 3 haunted attractions that have achieved "legendary" status with the haunted attraction industry, the media and the public. More than just a haunted house tour, the LHT has evolved into a destination social event for haunters all over the world, providing a unique vacation & networking opportunity just after the Halloween season. If you're a haunted house owner, actor, makeup artist, costumer, merchant or if you just love haunted houses and Halloween, the Legendary Haunt Tour is the place to wrap up the season, relax, unwind, have fun, celebrate, see what your fellow haunters have to offer… and start getting ideas for next year!
The 2015 Legendary Haunt Tour will be visiting Chicago the second weekend in November, specifically Statesville Haunted Prison & City of the Dead, the Wisconsin Fear Grounds and the 13th Floor Haunted House. With this tour, you don't just get to go to the haunted houses - you travel with hundreds of haunted house enthusiasts and owners, get VIP treatment and behind-the-scenes tours, on-site after-parties, educational seminars and much more - visit
http://www.legendaryhaunttour.com
for full details and to get tickets.
PLEASE NOTE: The deadline for hotel reservations (should you need to stay at the host hotel) has just been extended through Wednesday, November 4th - full information at http://www.legendaryhaunttour.com/travel/hotels/
10/07/2015 :: 01:02 PM
Statesville Haunted Prison - Still Hiring for 2015!
Statesville Haunted Prison & City of the Dead still need actors for the current Halloween season! If you're interested, email Jade at
jade@zap23.com
.
09/21/2015 :: 04:05 PM
HellsGate Haunted House Opening POSTPONED
The opening of HellsGate Haunted House has been postponed until 2016. Although Zombie Army Productions worked tirelessly to get the doors open for the 2015 season, a project this massive simply has too many variables, many of which are beyond our control. But don't worry! We are incredibly excited to show Chicagoland our beautiful and hideous mansion in the woods and we will continue to work throughout the coming winter, spring and summer to bring you HellsGate in October of 2016.
Have a great Halloween season, keep on screaming, and we look forward to terrifying you in one year's time!
-John LaFlamboy, Director, Zombie Army Productions
08/12/2015 :: 11:04 AM
The Haunt Chicago iOS App Is HERE!
The brand new, FREE
HauntedHouseChicago.com
app "Haunt Chicago" is
NOW AVAILABLE in the iTunes store
, with an Android version currently in the works!
Get the Haunt Chicago app
to be able to find the haunted houses closest to you in the Chicagoland area, as well as Chicagoland haunt and Halloween news, the ability to rate and review the attractions you visit and more!

08/04/2015 :: 10:16 AM
HellsGate Haunted House: The Legend Returns This October!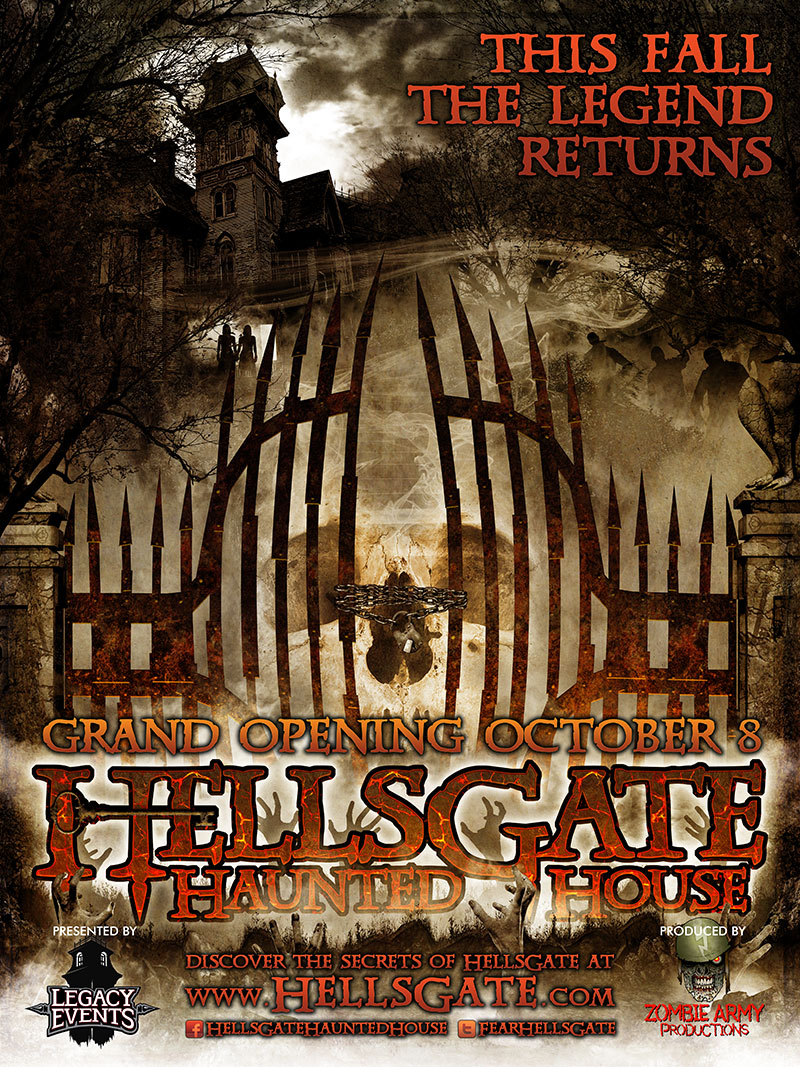 For many years, the people of Chicagoland have been searching for a legendary haunted house. Rumors say it's in a cemetery, it has a giant slide and it's hidden out in a forest. And, they say, it's so scary that it has a money back offer...
Zombie Army Productions
has joined forces with Legacy Events to bring this legend back to life. Hidden deep in the woods,
HellsGate Haunted House
is a multi-level mansion filled with secret passages, giant slides, ghastly secrets, undead abominations, really nervous groundskeepers and a darkness that the gate can no longer contain! This is not just a haunted house, it's an adventure!
This October, challenge yourself to a truly terrifying experience. Finding the mythical haunted house in the forest will now be possible; finding your way out, on the other hand...
And for those who are able to keep their wits about them while trapped in the dark, if you find the key, your ticket is free!
Site contents copyright Zombie Army Productions unless noted otherwise. All rights reserved. Google+